All About Jazz Review: Eric Bolvin, No Boundaries (2010)
Written by NICHOLAS F. MONDELLO, Published: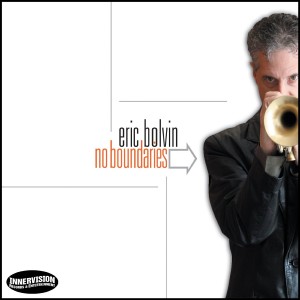 One might wonder what might have drawn the great Miles Davis to record melodically verbatim covers of Michael Jackson's "Human Nature" and Cyndi Lauper's "Time After Time," in a smooth jazz format. Commercial interest? A musical category boundary to break? Because he could?
With No Boundaries, trumpeter Eric Bolvin continues to validate his very distinguished place as a fine proponent of smooth jazz trumpet. While there are no breakthroughs or Davis-like covers present, the disc perfectly fits that categorization, because Bolvin shows he can not only play well, but produce and compose excellent offerings of interest.
Bolvin's open and Harmon-muted playing is excellent, playing in an economical style that makes the most of his improvisational choices. His buttery flugelhorn is seductive, especially on a straightforward send-up of "Darn that Dream." Although dwelling in the smooth trumpet world, Bolvin could easily create a marvelous effort with standard Great American Songbook repertoire on that instrument alone.
While the grooves here are fairly standard smooth fare, what really distinguishes No Boundaries is the varied textural approaches emanating from Bolvin's writing, production and orchestral keyboards. It is that dimension, combined with Bolvin's fine playing and brilliant compositional touch, that makes No Boundaries such an interesting listening.
Of the disc's fourteen selections presented, thirteen are Bolvin originals, some incorporating the trumpeter overdubbing layers of textures from an EVI (an Electronic Valve Instrument), synthesized strings, and keyboards. While not as adventurous or "outside" as albums like Luca Aquino's Lunaria (EmArcy—2009), Bolvin's experimentations intrigue and never bore; "Cricket Dance," for example, incorporating a Toots Thielemans-like synthesized harmonica. A very nice touch, quite a few of which can be found across the selections.
There's a Latin flavor to these tunes, lending itself nicely to Bolvin's warm sound and gentle approach to melody, with the rhythm section, where involved, providing a stable platform for Bolvin's work ("Stand Up!!").
There are selections here that scream "movie theme," and some sparkling emotional chemistry on some of the tunes. It would not be a surprise to see Bolvin's name running on film credits one day; he's that talented. Perhaps No Boundaries portends what Bolvin's music future might have in store.
Track Listing: El Gato Loco; Late Night Call; Ano Nuevo; Z-Mode; Cricket Dance; Knuckle Knows; 4th Street; Darn that Dream; Stand Up!!; Easin' the Pain; Panama Red; Waterways; Snails; Sea of Leaves.
Personnel: Eric Bolvin; trumpet, flugelhorn, EVI, keyboards, programming; John R. Burr: piano (5, 12) Nelson Braxton: bass (7,12,13); Billy Johnson: drums (7,12); Timo Gutierrez: percussion (3, 5, 11); Mike Renwick: guitar (7, 9, 11); Margo Leduc: vocals (11).
Record Label: Innervision Records
Source: http://www.allaboutjazz.com/no-boundaries-eric-bolvin-innervision-records-review-by-nicholas-f-mondello.php
https://bolvinmusic.com/wp-content/uploads/2014/08/eric-bolvin-no-boundaries-e1407092034967.jpg
1477
1477
Nicole Vierra
https://bolvinmusic.com/wp-content/uploads/2018/05/bolvinmusic-logo-2018.png
Nicole Vierra
2014-08-03 08:34:39
2014-08-07 03:01:46
All About Jazz Review: Eric Bolvin, No Boundaries (2010)